← LAST ONE | Now | 2019 →
27 December 2018, 08:57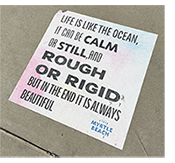 So, I hope you had a happy holiday and a joyous yule. We did. And then we came back to reality… Sigh. Isn't it like that always?
My dear friend Helen gave us (me, him and a friend) two nights, two days at one of her condos as a gift. This one was in Myrtle Beach at Harbour Lights. If you EVER have a chance to take a vacation of that sort, I encourage you to go. It was like a fantasy, and escape from all the things of man, all the weight of reality. I tear up on how kind she was to let us do that. It was a two bedroom condo that was in a high end resort and it was nice. We went and brought our presents and brought a ton of food to cook – to be clear, I wasn't going to cook. I couldn't even begin to know how to cook prime rib and make it edible.
We packed up almost everything we own in the kitchen, we set up the dogs so they were taken care of, and we headed off to the beach for Xmas – a three hour drive to the beach. It turns out, when you do a vacation of this sort, almost everything was provided. Dishes, can openers, pots, etc. Now we know. We didn't have to bring everything and the kitchen sink. When we got home, I kinda don't know where all our silverware went… sigh.
It was nice. It was nice to spend the time with him. We all agreed it was one of the best holidays ever (in a long time) for everyone. I knew a good 2/3rds of us really had a very harrowing 2018, so this was the greatest end we could have wished for, except for winning the lottery. The only thing is that we didn't have a ton of money, and if we were practical, we shouldn't have went. But sometimes. You need something like this. I did decide that homemade chili, champagne and cartoons would be perfect for New Years. There's a slim chance of going out, but I'm not of that sort of nature and would rather spend it in a small gathering of those I love with good food and warmth. Shoot. I have a pool table and dogs. I don't know what more I could want.
It was a very cool place, Myrtle Beach. I was surprised at the amount of people at the beach and I loved the little commercialized beach touristy trap deal going on. I thought it was tacky and great. It was warmer than I though it would be and we sat on the beach building sand sharks and collecting shells. I wish I had my camera (the pictures below were taking with my iphone) and I missed the dogs and wondered if they'd like the beach. Trying to figure out how to bring my zoo down to the ocean. Next beach trip, though, is to Charleston. It's closer.
The one thing I really miss is the bathtub in the room. It was tremendously big – I think it was meant to fit either multiple people or one really big, fat man. I spent an inordinately large amount of time swimming in hot water and bubbles, chugging down mimosas.
We came back to reality – broken Fords and teeny tubs. Bills and obligations, but nothing we can't get through, it's not the end of the world, the challenges that happen. They are just things to get through and they get gotten through. On my end, I came home to the start of a great new year. My status either stays about the same (which is not bad) or it is going to get a whole lot better. I'm hoping for a WHOLE LOT better. I've already been blessed three fold and my 2018 ended so much better than it began. I'm intact, a little worse for the wear, but I'm loaded with forward momentum. And I have lots of love all around me.
And whatever happens, I know I can handle it.
Some shots of this holiday's highlights for me: